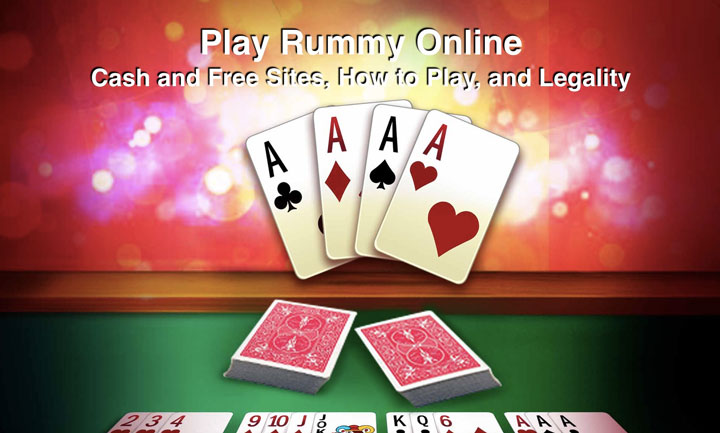 Indian Rummy was derived from games like 500 Rum or Gin Rummy that originated in the United States. It is a card melding game in which 13 cards are melded into Sets and Sequences of 3 to 4 cards to make a winning hand. These days, you can play rummy online on various paid and free rummy sites in India.
For two players, the game is played with a deck of 52 cards plus a joker, while for 6 players, it's played with two decks of 52 cards each plus two joker cards.
In this article, we will cover various aspects of Indian Rummy.
Quickly Jump to Any Section:
1. Play Rummy Online
Rummy enthusiasts can now play rummy online from anywhere, anytime using computers or smartphones.
Online rummy has gained prominence in India due to various contributing factors like widespread adoption of smartphones, cheap data, and development of a number of online games across the country and the world.
Rummy online can be accessed through web browsers, desktop apps, and mobile apps. There are various online rummy games like Points Rummy, Deals Rummy, Raise Rummy, Pool games, 24×7 Rummy and Tournaments available for users.
The following two sections explore the options to play online rummy for free or cash.
1.a. Play Rummy Online – Free
To play rummy online, free websites are available from both Indian and offshore game providers.
Play n Go websites allow you to play rummy online for free without registration.
These online rummy free sites help you hone your game skills for offline rummy or online rummy cash games.
You can also explore various free online rummy tournaments available online that allow you to play and win cash without spending any money.
To play free rummy online, you can explore websites and apps like Mobile Premier League Adda52Rummy, KhelPlayRummy, and Classic Rummy.
1.b. Play Rummy Online – Real Money
To play rummy online, real money can be used with Indian and offshore game operators offering services to players in India.
When you play rummy and win cash on such websites, they offer secure and safe withdrawal options.
Online rummy for money in India can be played on various websites with lucrative deposit bonuses and tournaments.
Play rummy online for money through operators like RummyCircle, Adda52 Rummy, and Ace 2 Three.
Various real cash rummy tournaments are conducted round the clock with 24×7 rummy games in a knock-out style, and they are played for real cash and prizes in INR. For this, you can just deposit cash to your Rummy account on a website offering such tournaments.
Playing rummy for cash is legal in India. In a few sections below, you will read more about the legality of rummy in various states.
You can check the rummy websites listed below to find cash rummy games that offer interesting opportunities to play online rummy for money.
1.c. Online Rummy Sites and Apps
Good online rummy sites are defined by ease-of-use, useful bonuses, safe deposits & withdrawals and good customer service.
You should explore all websites to choose the best rummy sites to play with. Good quality games and high player satisfaction make the best rummy sites in India.
With the number of smartphone users expected to rise to 859 million by 2022, gaming companies are also likely to upgrade their offering. The revenue in the mobile gaming segment in India is about US$1,015m in 2019. The number of mobile game users is expected to be around 176.6m in 2023.
These stats show the potential for iGames like rummy to grow exponentially in the near future.
Here are some of the rummy websites in India that allow you to play rummy for cash:
Rummy Circle is one of the most popular rummy sites in India. Its website states that they have over 10 million users.
Games: RummyCircle hosts Points rummy, Deals rummy, Raise Rummy, 24×7 rummy games, Tournaments and Free tutorials..
Promotions: They offer a sign up bonus of Rs. 2000 and various other bonuses.
Devices: They have a web-based platform. Rummy Circle APK app download allows convenience of use. RummyCircle also has an iOS app.
Deposits and Withdrawals: Online Rummy Circle has payment partners like BillDesk, PayTm, MobiKwik, CCAvenue, and Tech Process Solutions.
Ace3Three caters to over 12 million players, as per their website.
Games: Ace2Three offers Points rummy, Pool games, Multi table tournaments (Its tournaments have attracted up tp 42500 players in the past.)
Promotions: It offers a sign up bonus of Rs. 2145 + 255 Cash*
Devices: They have a web-based platform and iOS and APK apps for Android, iPhones and tablets.
Deposits and Withdrawals: It has payment options like Visa, Mastercard, BillDesk, Tech Process Solutions, Rupay, Citrus, and DirecPay.
Adda52 Rummy is a simple platform. They have announced various pool games on their website.
Games: Pool games and tournaments
Promotions: Large prize pool games, Daily & weekly leaderboard prizes, and Happy hour bonuses
Devices: Web-based gaming platform and Android and iOS apps
Deposits and Withdrawals: Credit cards, debit cards, Net Banking, mobile banking, Pay by Cash, and Scratch Cards
KhelPlay Rummy is also one of the most popular online rummy sites in India. It offers various games and bonuses and is accessible through various kinds of devices.
Games: Pool games, Points Games, Deals Rummy, and Tournaments
Promotions: Khel Play Rummy offers a welcome bonus of up to Rs. 1500, referral bonus, and tournament bonuses
Devices: Web-based gaming platform, desktop app, and KhelPlay rummy apps for Android, Windows and iOS
Deposits and Withdrawals: Credit cards, debit cards, Net Banking, mobile banking, Pay by Cash, and Scratch Cards
Junglee Rummy's website says that they have over 5 million users.
Games: Junglee Rummy online cash games include Pool games, Points Games, Deals games, 10-card rummy, 13-card rummy, 21-card rummy, Live practice games, and Tournaments.
Promotions: Welcome bonus of Rs 11,000 and referral bonuses.
Devices: Web-based gaming platform and Rummy game download on iOS and Android devices.
Deposits and Withdrawals: Visa, MaterCard, Maestro, PayTm, Freecharde, BHIM, MobiKwik, Tech Process Payment Services, Citrus and PayU
2. How to play rummy?
Learning how to play rummy is very straightforward.
Indian Rummy is played with two decks of cards and two joker cards. Let's start learning the game with a few terms used in the game.
2.a. Rummy Glossary/Terms
To play rummy games, you need to know the meaning of a few terms:
Joker or Paper joker: This is a card whose value and suit can be assumed by the players to make a Life/Sequence or Set.
Life/Run/Sequence: Life or Run means having a straight sequence of least 3 cards from the same suit. A Pure life is a straight sequence from a suit, made without the use of a joker.
Set: A set includes 3 or four cards with the same value and different suits. You can use a joker to make a set of up to 4 cards only.
Show: A player can show their cards once they have have at least 2 Lives, one of which has to be a Pure Life. Besides the 2 lives, the show can look like below with four groups of cards:
Group 1 (1 Pure Life) | Group 2 (1 Life; with or without joker) | Group 3 (1 Set/Life) | Group 4 (1 Set/Life)
2.b. Rummy Rules
Objective of the game is that each player has to arrange their 13 cards in four groups of 3, 3, 3, and 4 cards. At least two of these groups have to be Lives, and at least one Life has to be Pure (without a joker).
When a player arranges their cards in the required groups, it's called Melding. A Meld is a Set or Life/Run.
After 13 cards are dealt to each player, two stacks of cards are available for the players to draw from—one open stack and one closed stack.
When a player draws a card from the top of any stack, they have to discard a card from their hand. The discarded cards from the players make the open stack of cards mentioned above.
Each player draws and discards cards when their turn comes. They can also choose to drop a Round of game on their turn, before drawing their first card.
If the closed stack of cards is finished, then all the discarded and dropped cards are reshuffled to make a fresh closed stack.
A round of a '13 cards' rummy game starts with the dealing of cards and ends with one player making a Show or the prize being Split.
Note: You can use Ace as a 1 or a face card in the game of rummy.
These rules apply to both rummy cash games and free rummy games.
3. Is rummy legal in india?
If you are wondering 'Is rummy legal in India?', then the answer to the question is, Yes!
As per a 1967 Supreme Court judgment on rummy for State of Andhra Pradesh v. K. Satyanarayana, playing rummy involves a preponderant element of skill, and it is not entirely a game of chance.
Playing rummy for small stakes is legal in India, as per a ruling passed by the Delhi High Court in December 2017. The order also recorded that an offence under the Gaming Act can be made out if a club hosting the game is making a profit or gain from the game of rummy.
However, the order leaves open the possibility for clubs and online website operators for making profits or gains from the fee they charge to organize the games of rummy that come under illegal gambling.
Playing rummy for real money is however illegal in the states of Assam, Odisha and Telangana.
3.a. A Note on Rummy Ban in Kerala
As per an order passed on Kerala Rummy by a division bench of the Kerala High Court in October 2019, a case by case decision is needed to check violation of the Gaming Act for rummy played for stakes.
The bench noted that rummy is exempted from the ambit of gambling as per a 1976 notification under Section 14A of the Kerala Gaming Act, 1960. This is subject to a condition that side-betting is not allowed on rummy games.
The order was passed on a few petitions filed by online rummy operators like RummyCircle.com, Ace2Three and Junglee Rummy to challenge the court's January 2019 order holding rummy for stakes as an offence of gambling.
3.b. How to Play Rummy in Telangana
As per Telangana Gaming (Amendment) Bill, 2017, wagering or betting on games of skills like Rummy, including when such games are played online, is a punishable offence.
This make rummy in Telangana illegal. Even Online rummy in Telangana falls under the ambit of the said amendment.
4. Conclusion
Indian Rummy, a popular game in the country, is offered by many online operators. With the ease of play offered through online games, many players are attracted to such platforms to play games for free or cash.
There are popular rummy game providers like RummyCircle, Ace2Three, KhelPlay Rummy and Junglee Rummy. They offer web and mobile-based platforms to play anywhere, anytime.
One can play game of rummy for cash as per a 1967 Supreme Court judgment. However, there are some restrictions and conditions attached to the stakes involved. Players from Telangana cannot legally play rummy online or offline, as per the state's Gaming Act.