The Rummy Federation Awards Accreditation Seal to Four Operators in India
The Rummy Federation awarded Dynamic Seal to Four online rummy companies who followed a stringent code of conduct to protect interests of players.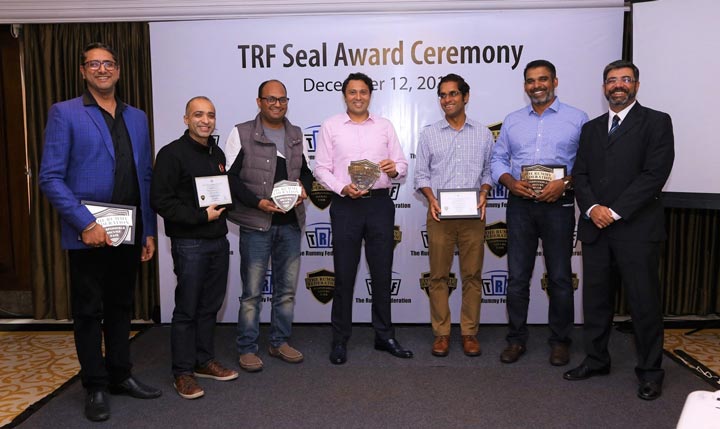 The Rummy Federation (TRF), the self-regulatory body for the online rummy industry in India, awarded the TRF Dynamic Seal, a seal of accreditation to four operators in the country, in an event held in New Delhi last week.
As per TRF, the online rummy industry in India is worth Rs. 2200 crore and caters to over 5.5 crore players. It is growing at 34% Compounded Annual Growth Rate (CAGR). There are around 18 companies in the online rummy industry in India, of which seven companies are affiliated to TRF.
The four Rummy platforms to receive the Dynamic Seal are Ace2three, Junglee Rummy , Rummy Circle and Rummy Passion. As per TRF, a renowned Big Four audit firm conducted a third-party audit of these businesses before the seals were awarded.
TRF also hosted a CEO roundtable conference on the sidelines of the accreditation event to discuss issues pertaining to the online rummy industry with leading operators as well as other stakeholders.
These four rummy companies are now certified to have followed a strict code of conduct that protects the interests of players. The self-regulatory code of conduct for online rummy operators was released by TRF at a knowledge summit in Mumbai in 2018. At the summit, TRF also released a paper with Deloitte, 'Online Skill Gaming in India: The Changing Landscape'. The paper covered the emerging trends in the online rummy industry, the current market size, growth potential, possible gamers' characteristics, and the regulatory landscape in India.
To keep the Seal valid, rummy companies have to comply to the requirements of the code of conduct on an on-going basis. Some of the main requirements to compliance are:
No underage players
Recognizing and assisting vulnerable players
Responsible gaming requirements including daily and monthly playing limits, ability to self-exclude, etc.
SSL encryption
Mandatory Random Number Generation certification
Strict timelines for withdrawal requests
This initiative is aimed at promoting a responsible, safe and fair gameplay experience to the users. Companies who get this digital certificate have to comply with stringent guidelines outlined by TRF.
TRF is a not-for-profit body that was launched to guide and support the online rummy industry in the country.
Sameer Barde, the CEO of TRF awarded the seals to Deepak Gullapalli, Founder and CEO, Head Digital Works (Ace2three ), Rahul Bhardwaj, Co-Founder, Junglee Games (Junglee Rummy), Gaggan Kharbanda, Co-Founder and CEO, Passion Gaming (Rummy Passion), and Trivikraman Thampy, CEO and Co-founder of Play Games24X7 (Rummy Circle).
Barde, at the launch of the TRF Dynamic Seal, said, "Online Rummy is a rapidly growing industry with new players joining every day and several emerging operators. With the growing number of players and operators, the online rummy ecosystem has become quite robust, while also creating the need for regulation to safeguard the players and ensure responsible, secure and fair environment for them. The TRF seal symbolizes compliance to the strict code of conduct set in place for operators to protect the players from any unwanted outcome and an assurance to players so they can put their minds at ease and enjoy the game."