Dream11 CEO Harsh Jain discusses his company's growth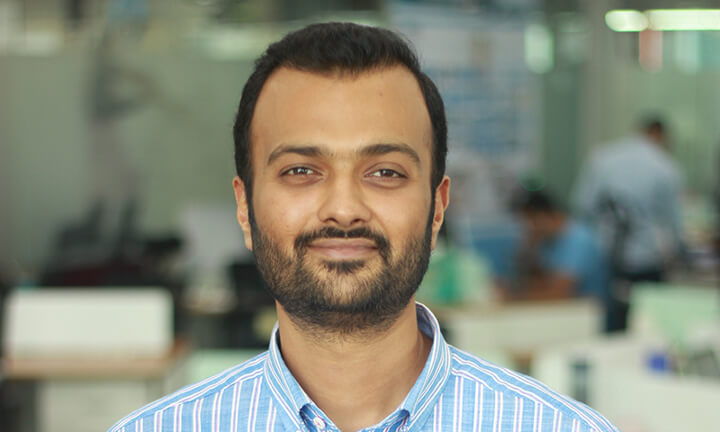 Exclusive University of Pennsylvania graduate Harsh Jain along with his friend Bhavit Sheth decided to start a fantasy sports portal in India a decade ago, in 2008, when there was almost no awareness about the game and the format. Currently, his brand, Dream11 is one of the most recognisable fantasy sports brand in the country.
In this exclusive interview, Harsh Jain, the co-founder and CEO Dream11 talks about how he started the first fantasy sports portal in India, the exponential growth of fantasy sports in the past couple of years and the challenges and opportunities that lie ahead for his company.
Full interview:
Q. Over the past few years, Dream11 has become synonymous with fantasy sports in India. By far, Dream11 is the market leader in the fantasy gaming space and is growing rapidly. Can you tell us about the journey of Dream11 so far and what prompted you to start a fantasy sports website?
Harsh Jain (HJ): I have been an avid fantasy football (EPL) fan since 2001 and when the IPL began in 2008, I went looking to play fantasy cricket online. It was shocking to see that in a country like India, where cricket is watched by 800 million people, fantasy cricket was non-existent. So my co-founder Bhavit and I thought this was a perfect problem for us to solve. After a few years of experimenting with different formats on Dream11, we found a market-fit product with single-match freemium fantasy cricket in 2012. Over the years, Dream11 has grown to become a diverse platform by offering multiple sports to a variety of sports fans in the country and has grown from 3 lakh users in 2015 to 3.8 crore users in 2018.
Q. IFSG – AC Nielsen's recent report on fantasy sports in India has revealed that the number of fantasy sports users has grown tenfold from just 2 million around 2 years ago to 20 million. It has also projected that the user base will cross 10 crore (100 million) by 2020.
The report is projecting that almost 8% or more of India's population will be playing fantasy sports by 2020. What do you think are the reasons for this exponential growth in fantasy sports in the past few years?
HJ: By 2020, there will be 30 crore Indian sports fans watching sports online, so we are sure that 33% of them will play fantasy sports, compared to the US where 65% of sports fans play fantasy sports. In recent times, sports & technology have converged beautifully to provide Indian sports fans with an immersive and engaging experience, successfully bridging the offline-online sporting divide.
Affordable smartphones with high-speed internet access have made it easier and more convenient for sports fans to consume their favourite sport from anywhere. The advent of T20 leagues has further fuelled more interest in the minds of sports fans with a shortened attention span and the need for instant gratification, which is why single-match freemium fantasy cricket has worked so well in India.
Q. You have been the driving force behind setting up an industry body for fantasy sports, the Indian Federation of Sports Gaming (IFSG). What were the reasons for starting IFSG and what are its objectives?
HJ: The fantasy sports industry in India has grown exponentially not just in users but also in operators – from 10 in 2016 to 60+ operators today. With an increasing number of fantasy sports fans, this number is only set to grow further. It is at this nascent stage that safeguarding our users' interests, having a standardised framework for operations and best practices in the industry becomes imperative.
Sensing the need for self-regulation and the absence of a watertight industry body to do so, we set up the Indian Federation of Sports Gaming (IFSG) – India's 1st and only self-regulatory Sports Gaming industry body. As the unified voice of the industry, IFSG will work with key stakeholders to create a thriving ecosystem for users and operators, by laying guidelines for a common set of practices, setting standards of operations and creating a regulatory framework.
Q. Dream11 has been launching many aggressive marketing campaigns of late be it cricket legend MS Dhoni's endorsement announcement or the company's sponsorship of IPL broadcast on Star India. What has made Dream11 launch high voltage marketing campaigns in the past few months?
HJ: With India's massive growth in online sports viewership, and the Indian fans' desire to connect with their favourite sport in a more engaging manner, we felt the time was right to advertise Dream11 more aggressively. So as the IPL approached this year, we thought it was just the right time for us to launch our 'Dimaag Se Dhoni' campaign featuring our brand ambassador MS Dhoni. Dhoni's personality resonated perfectly with our brand's core values, and his ability to read the game to pick a winning team is also what each of our users aspires to emulate.
Q. Last year, the Punjab and Haryana High Court ruled that fantasy sports and specifically Dream11's format was a game of skill and did not amount to gambling. The Supreme Court in a way affirmed this decision by dismissing the losing party's appeal. This has vindicated your stand that fantasy sports is a game of skill and is legal in India.
Do you think this ends the debate on the legality of fantasy sports? Or do you still feel states (like Telangana, for instance has amended the law to ban skill games) will take up the issue or other High Courts may take a contrary view than what was stated by the Punjab and Haryana High Court?
HJ: While the landmark Punjab & Haryana High Court order and the subsequent decision by the Supreme Court vindicate's our stand that fantasy sports is a game of skill, since games of skill are a state subject in India, each state can still make amendments to respective state laws in this respect. As a fully legal and compliant fantasy sports operator, we have always abided by the Central/State laws in the country and will continue to do so.
Q. Recently, the decision of the US Supreme Court to allow states to legalise and regulate sports betting created lot of ripples. Fantasy sports companies like DraftKings and Fanduel are planning to offer sports betting products very soon. Do you see a similar situation arising in India? Whenever sports betting is legalised and regulated, most of the fantasy sports operators will start offering betting?
HJ: Fantasy sports are, and will continue to be, a social game and not comparable to sports betting products. 90% of our users still continue playing for free only. While we don't comment on any speculative scenarios, presently the focus is on creating awareness around fantasy sports in India where the potential is huge with an increasing number of sports fans.
Q. There have been recent reports that Chinese giant Tencent is looking at investing in Dream11 and that the talks are at an advanced stage. Can you share details about this proposed transaction?
HJ: We don't comment on media speculation.
Q. What are the future plans of Dream11? Are you planning to expand your company to other jurisdictions or introduce other formats or games?
HJ: As India's biggest sports game with over 3.8 cr users, our primary goal is to provide Indian sports fans with the best, most trusted single-match fantasy sports experience. With 800 million TV sports viewers in India, there is huge headroom to convert passive sports fans into active participants and keep them engaged with their favourite sport.
By offering freemium formats for multiple sports like cricket, football, kabaddi and basketball on our platform and becoming the official game for several leagues like the ISL, CPL & NBA already, we aim to bring together all sports fans under one roof to fulfill their engagement needs.
Q. What do you think is the road ahead for fantasy sports in India?
HJ: The Indian fantasy sports industry has grown from 20 lakh users in 2016 to 4 crore users in 2018. As per the IFSG-AC Nielsen report, this exponential growth is expected to reach the 10-crore mark by 2020. With new technological advancements and affordable internet access, fantasy sports have started making an impact amongst sports fans in metro as well as non-metro cities. Some of the major sports leagues in the world such as the Hero CPL, ISL and the NBA have started using Dream11 as their primary tool of fan engagement.
Not only does this deepened engagement lead to increased viewership, but also drives active fan participation to increase overall sports consumption. With IFSG taking the lead to protect users' interests and working on self-regulation by setting best practices and promoting 'Responsible Gaming', this booming industry is set to achieve greater milestones in terms of user growth, popularity and consumption.